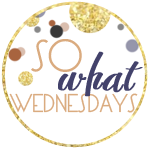 Today I'm saying SO WHAT if...
- We had dinner at my parents' house last night, and while getting ready, I had the grand idea to go the extra mile to look decent so that we could get these family photos taken. Our last family of four photos were at Easter when Gabe was what, a week old? Too long ago. I'm happy with them.
- My friend and ex co-worker, Rachel, is visiting today from Minnesota, and instead of giving her directions to our house, I told her I'd just meet her at Dunkin' Donuts because I haven't had DD in way too long and I need a fix. Remember when I used to have it daily, sometimes TWICE a day? No wonder I've been twitching. ;)
- AWANA starts up at our church next week, and I am SO EXCITED Ethan can go this year! I am already scrambling to think of ways I can spend that hour & a half toddler-free. Bahaha. No, but seriously...I am excited for him to have that extra time at church with other kids. It will be so great for him.
- I am already ready to paint all of the walls in this house. Flat, beige paint is not fun EVER, but especially with a toddler and with a husband who tends to lean things up against it, and baboom, there's a new mark every 3.5 seconds.
- I am thinking about beginning Christmas shopping now. Less than 100 days, my friends. Time to get serious. Don't pretend it's not coming. You're only fooling yourself. :) (I! AM! EXCITED!)
- My office is the last room I have a desire to organize. It is quite literally The Scentsy Room. There are boxes and boxes of Scentsy products, and the closet in here doesn't have shelving. It's on our to-do list. For now, it's all an unorganized mess, and I know it's going to be a weekend project I'll have to just suck up in the near future.
- I might have to stop at Wendy's this weekend for another one of
these
. Mmm.
-
Yesterday's post
was a book. I loved your sweet comments on the post, on Facebook, on Instagram, in personal e-mails. Thank you, thank you. :)